Althon Swale Inlet Headwall-300
The Althon 300mm Swale Inlet Headwall is a swale and pond fibre reinforced precast concrete open inlet allowing surface water runoff to enter SUDS features, or to act as an outlet or overflow. This swale inlet is designed for pipework up to and including 300mm.
The profile of the inlet 1:3 (18 Degrees) is the same as the surrounding ground in accordance with guidelines for the construction and adoption of swales and ponds. There is a recess formed in either side to key the unit into the slope of the swale or pond and prevent it slipping.
Our 300mm swale inlet connects to pipework with a 300mm twinwall stub cast into the unit. The unit is fitted with a hinged 25mm grille which is available in mild steel galvanised after manufacture as standard or stainless steel to order. The grilles are fixed to the inlet with 4 No anti-tamper bolts, when the bottom two bolts are removed the grating hinges for ease of maintenance. The grating is located in an 8mm deep recess in the face of the unit to protect it from damage during routine maintenance of the surrounding area.
The 300mm Swale Inlet can be factory fitted with a 300mm inline non – return valve such as a Wastop if required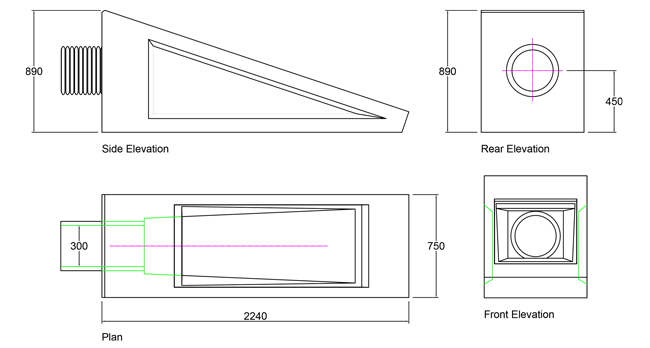 Product Name
Max Pipe Opening PCC
Max Pipe Opening Plastic / C'ware
Backwall Height
Approx Headwall Weight (kg)
Althon Swale Inlet Headwall-300
300
300
890
1465
Brochures, Datasheets and Installation Instructions for Althon Swale Inlet Headwall-300
Free headwall design service
If you cannot find what you are looking for our Free Headwall Design Service can help.
More information